The school venue can be reached in the following ways:

The closest airport is the Lamezia Terme International Airport, distant about 35 km from the school venue. It is served directly by Alitalia, blu-express, easyJet and Ryanair. The easiest way to reach the school venue from the airport is by taxi. In case of multiple participants arriving within the same time slot, the organization will arrange a group transportation. Another option to consider when planning your flight is to land in Rome or Naples and then reach the school by train.

The closest railway station to the school venue is called "Vibo Valentia-Pizzo", distant about 12 km from the school venue. For the train timetables you can check the Italian state railway web site. The easiest way to reach the school venue from the station is by taxi.

Driving along the "Autostrada A3 Napoli-Reggio Calabria" motorway you need to take the "Sant'Onofrio" exit and then turn right into the "Strada Provinciale 5" following the instructions in the map below:
GPS coordinates (in decimal degrees)
to the beginning of the road which will lead you to the hotel: 38.71199, 16.17351
to the venue: 38.75032, 16.20940
About Calabria
The school will be held in Calabria, a region in southern Italy located at the "toe" of the Italian Peninsula. Calabria has more than 500 miles of coast line and some of the best beaches in Italy. It has four mountain ranges with some of the highest mountain peaks in Italy (up to 2,267 m), still perfectly wild and uncontaminated in many areas, graced by lush dense vegetation, clear water streams, lakes, and beautiful waterfalls. In the winter you can also cross country and downhill ski. The University of Calabria, established in 1972, represents a leader institution of higher formation attracting a significant number of professors, researchers and PhD students from different countries. It currently has about 35,000 students, and an R&D and teaching personnel of more than 800 units.
Climate
The typical weather over the course of an average February in Calabria is characterized by temperatures ranging from 12°C to 19°C. Throughout February, the most common forms of precipitation are moderate rain, thunderstorms, and light rain.
Currency
Since January 1st 2002, the official currency is the EURO (€).
Voltage
The voltage throughout Italy is 220 V, generated at 50Hz. The Italian earthed plug/socket standard, CEI 23-16/VII, includes two models rated at 10 A and 16 A that differ in contact diameter and spacing. Appliances with CEE 7/7 Schuko-French plugs are sold in Italy. An example, taken from the school venue premises, is shown below.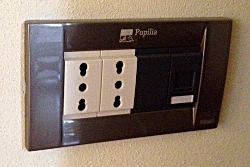 Time
During the period of the school there will be about 11 hours of daylight, with the sun rising at about 6:30 and setting around 18:30.