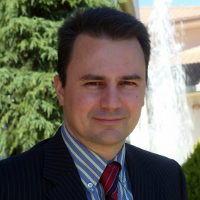 Marco Lackovic is a research fellow and teaching assistant of concurrent programming and object oriented programming at the University of Calabria, where he received a master's degree and a PhD in Computer Engineering.
Software engineer with 7 years of experience in designing, developing, deploying, testing and maintaining distributed applications, based on REST and SOAP web services, he's currently working on services for ubiquitous mobile applications for tourism.
His past experiences include:
the design and development of services for indexing and discovery of smart objects, using JAX-RS and Apache Lucene;
the design and development of Weka4WS and the Knowledge Grid, two frameworks to support the composition and execution of distributed data mining workflows, using WSRF based web services, on the Globus Toolkit grid platform;
sysadmin of the Grid Computing Laboratory at the University of Calabria.
His research interests are:
Distributed Scientific Workflows
Grid Computing
Mobile Human Computer Interaction
Location Based Services
Context-aware Systems
Indexing and Discovery Services
Service Oriented Architectures
He was born and breed in Vibo Valentia, Italy. Italian is his mother tongue, he learned to speak Croatian from his father, he speaks English fluently. He plays as middle blocker in Serie C level of the Italian Volleyball League and competes in the cross-country and downhill skiing national competition for Universities staff members. He occasionally plays basketball and five-a-side soccer, and goes running, swimming and cycling. His passions include solving programming puzzles, playing computer and board games, watching TV series.